Small business owners have undoubtedly felt the impact of the COVID-19 pandemic, as 23% experienced a loss in revenue, 11% temporarily halted operations,10% decreased their salaries, while 7% temporarily adjusted their company models to accommodate the pandemic's impact.
As a result of the COVID-19 pandemic, a global shift has occurred in terms of the way businesses operate and connect with their target market. This means business owners have to devise new and innovative ways to expand their companies, maintain operations, and satisfy the needs of their customers. In these unprecedented times, however, businesses can reposition their product offerings through an efficient growth strategy.
In this article, we will take an in-depth look at business growth strategies, the steps involved in creating them, and whether they are beneficial to you and your business.
What is a business growth strategy?
Just as you must continually push limits to maintain your established goals and measure achievements, your business must adopt new techniques to grow and help assess performance at every level.
To be effective, your business growth strategy must outline a realistic course of action for achieving your company's mission, vision, and goals. Business growth strategies assist decision-making in any competitive market in order to achieve long-term financial stability and economic growth.
How do you develop an effective business growth strategy?
In creating a business growth strategy that delivers relevant results, it is vital to construct an action plan with a specified time limit. At this point you may be wondering; "Ok, but where do I start?".
Here are the practical steps you need to follow in developing a robust business growth strategy for your business:
Step 1: Define your mission, vision and values
Defining your goals and vision is the first step in developing a business growth strategy. To do so, detail your company offerings, examine the challenges your target market is currently faced with, and consider how your company intends to solve their problems. It is vital to examine why your offerings are ideal solutions for your customers, and how they align with their interests. The details are what set your brand apart.
Step 2: Conduct a SWOT analysis of your business
Based on numerous successfully completed projects at Studio14, we've found the SWOT analysis to be invaluable when evaluating internal and external factors that might impact a business.
S – Strengths. These encompass the things your firm does well.
W – Weaknesses, which include the areas in which you need to improve in order to compete with competitors.
O – Opportunities. Involves external components that are likely to be relevant to your success.
T – Threats. Everything that places your company's performance at risk is regarded as a threat.
When done comprehensively, SWOT analysis gives essential information about your business and aids in developing a plan. Below is a detailed guide to making a SWOT analysis for your business:
Have an objective in mind: An analysis shouldn't be conducted for the sake of it; however, it should be done based on an actual objective. For instance, you can make a SWOT analysis to understand the processes involved in introducing a product, rebranding your company, or changing your marketing operations.
List your business's strengths and weaknesses: Write out what works well for your business and the challenges you experience. This will give you an idea of what area you can spend more time working on.
Itemise your opportunities: This step births questions like "what opportunities or gaps in the markets can my business capitalise on?", and "what are the new ideas we can implement to solve an issue?" Answers to these questions give a clear understanding of the current opportunities and threats.
Write out the factors that could be a threat: Make a list of external factors that could pose a threat or cause a problem for your business.
Lastly, examine your analysis by asking yourself a few questions: "How can I leverage the strengths to overcome the threats identified?", "What are the steps to take in overcoming the weaknesses, to capitalise on the opportunities?" and "How can I reduce the weaknesses to overcome the threats?". Your answers to these questions will be helpful in developing your business growth strategies.
Step 3: Analyse your market, competitors and audience.
Every industry has a target market, occurring trends and most especially pacesetting brands. To understand your industry and gain a percentage of the market share, conduct industry research by reviewing trends, gaps, market sizes, strengths and weaknesses of your competitors.
One way of doing this is to conduct targeted research by posing questions such as "Who is my target audience?" "What are the problems they face?" and "What are their interests and variables that influence their decisions?". This research might even include a focus group being asked these questions directly. Their responses to these questions will provide clear insights to their needs and how to satisfy them.
Step 4: Create your SMART goals
Most businesses fail to monitor their goals and performance over time, which might lead to unavoidable financial challenges if proper precautions are not followed. Goals that are Specific, Measurable, Attainable, Relevant and Time-bound give your firm a consistent structure for tracking and measuring progress.
To do so, draft your company's short- and long-term objectives and assign them to each SMART parameter in detail. Explained below is a guide to writing your SMART goals:
S -Specific
A goal must be specific in order to achieve the desired results. A specific goal provides answers to questions such as:
What tasks must be completed?
Who's to be held responsible for it?
What steps must be taken to accomplish this?
M -Measurable
This parameter entails measuring your specific goals. Do this by using trackable benchmarks (numbers, product usage rate) for your offerings. An example of a measurable goal is increasing the number of product users on a monthly basis.
A -Attainable
When creating goals, it's essential to decide whether the goals are realistic and can be achieved with available resources or not. While examining the attainability level of your company's goals, conduct a hard reality check and consider whether your goal is something your company can reasonably achieve.
R – Relevant
In creating relevant goals, it is of utmost importance to think about the future. And this gives answers to questions like:
Why are we setting this goal?
What is my firm set to achieve?
Will this goal maintain its relevance in a few years?
Can this goal be sustained?
Thinking about these questions will give you a perspective on how to create relevant and viable goals.
T-Time Bound
In measuring success, it is imperative to set a time frame and a deadline for each of your goals. To do this, you are to answer these questions:
For how long do I need to engage in certain activities to achieve a goal?
What is the due date to achieve a goal?
When will my firm begin developing and executing the identified tasks?
How many months do we require to push an activity?
Supplying answers to the above time-bound parameters helps you stay on track within a given time frame.
Step 5: Draft a marketing plan
Businesses must have a detailed marketing strategy that portrays the activities and the goals to be achieved in that month, the quarter and the year. From the planning stage through the implementation and execution stages, a strong marketing plan explains your entire approach to presenting your product.
Outline your marketing techniques based on your mission statement, audience market research and SMART goals. While at it, pay attention to your brand identity without neglecting your company's tone of voice and unique selling points (USP).
Step 6: Outline your financial objectives.
Businesses without a clear direction of finances end up running into financial hardship, unable to pay salaries and scale up the firm to achieve the goals for the year. To avoid this and boost your company's growth, set specific targets for yearly revenue, return-on-investment (ROI), costs, and market capitalisation. Thoroughly define your financial objectives, and evaluate the possibilities of growing your business by seeking out investors, partners and sponsors.
Step 7: Write out your operational and management plan
Proper business management fosters both internal and external growth, dramatically increasing the chances of business success. For success to be had, you must not neglect the operational and management operations.
Set management goals for smooth and coordinated functioning of your company, using tools like MilestonePlanner, and Basecamp. Proceed to establish a financial budget for business operations. This can be done by reviewing the cost of activities planned out for the year, as well as placing aside a substantial budget for miscellaneous expenses.
To aid productivity and analyse the performance of your business, consider adopting an employee reporting system. Thanks to technology, there is a wide range of tools you can explore to track your growth, as well as the performance of your organisation. These include Timedoctor, ActivTrak , Wrike among many others.
Four intensive growth strategies you can apply to your business
As previously explained in the introductory part of this article, growth strategies assist businesses in making long-term decisions that encourage economic and social development in any competitive market. This is evident in the activities of well-known global brands like Netflix and Nike. These firms have effectively promoted and positioned their services by recognising and applying business growth strategies.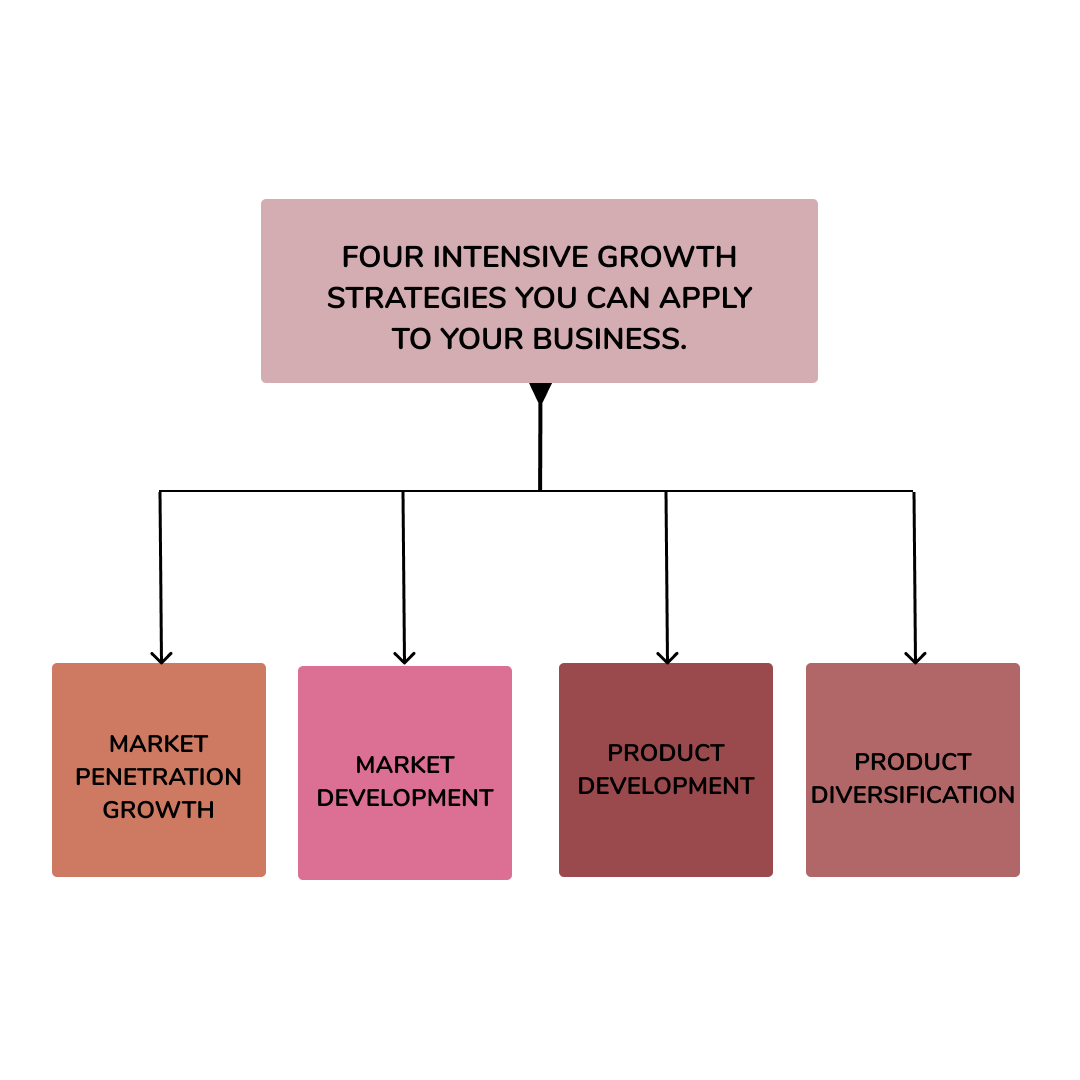 Netflix, for example, reaffirmed its commitment to providing great and unrivalled video entertainment services, while Nike assure users of above-average athletic capabilities when using their product.
Without the use of the following universally intensive growth tactics, their positioning would have been ineffective:
Market Penetration Growth: An approach to gain a proportion of your industry's market share using your products. This requires you to attempt to reduce the users' cost of using your product, increase your marketing efforts and communicate your USP to attract your target audience. Netflix employed this strategy in expanding its business operations and global market reach. The brand penetrated into the technology and entertainment industry by selling more online streaming services and focusing on customer experience in the markets the brand had already exploited, to acquire more customers.
Market Development: This strategy enables you to introduce your product or service to people in different locations. For instance, assume you own a ride-hailing company that provides economical riding fares to individuals in urban regions. To expand the market percentage and ensure your business stays relevant, examine joining the commercial market in a semi-urban area by hiring drivers to expand, and giving discounts on every ride to entice the audience.
Product Development: Here, your business builds new products or services within your present brand offerings to the same target market, without starting afresh. A digital academic library for researchers and academics, for example, may expand its capabilities by creating a high-quality surveying and paraphrasing tool for users. Nike adopted this strategy to enhance sales and maintain brand relevance by launching new shoe styles and associated sporting goods. This strategy sets Nike apart from the competition and defines it as a product innovator.
Product Diversification: Unlike product development, diversification of product entails creating new items for a whole different target audience. Due to the ever-changing nature of technology, tech companies are excellent users of this method. Nike's early launch of apparel and sports equipment, in addition to its traditional shoe manufacture, is another noteworthy example.
Why do you need growth strategies to expand your business?
Growth plans function as a measure of checks and balances by ensuring that your organisation works toward specific stated goals.
By preparing for unanticipated industry developments, growth strategies position your business to be a game-changer.
Additionally, growth strategies allow you, your board of directors, and your staff to see your company grow at a controllable pace.
Finally, strategies encourage you to think long-term, save ideas for rainy days, and enable you to generate ideas you can develop and implement.
A business growth strategy sets your business on a path toward achieving your goals. While you engage yourself in developing your strategies and establishing your ideas, avoid the pitfalls of hasty decisions that will cost you a lot in the long run.
To find out more business growth strategy, contact us at daniel@studio14online.co.uk .