…………..
Despite being similarly named, WordPress.org and WordPress.com are indeed quite different. Unfortunately, managers of small businesses and established corporations frequently misjudge these differences, which pose a risk for business. Hence, resulting in making wrong decisions for their website requirements.
To answer the commonly asked question, "What is the difference between WordPress.org and WordPress.com?".
Here are some key ways to differentiate the two.
You can liken WordPress.org and WordPress.com to renting an office space in today's world. For WordPress.org, renting a space enables you to exercise control of activities, including power usage and water supply. While the offerings of WordPress.com is synonymous with renting a space with restrictions on your freedom and mode of expression. It is worth noting that WordPress.org permits users to download the application to create and manage a website. WordPress.com, however, regulates users' activity on websites.
What are the Pros & Cons of using WordPress.org?
As stated earlier, WordPress.org is an open-source platform that can be accessed easily and for free. To explore the benefits and drawbacks of adopting WordPress.org for your company's website have a look at the table below.
To support the details in the image, it is worthy to note that WordPress.org encourages creating membership sites, courses, and building an online community on your website. This platform however, requires sourcing for a separate website host for your business.
What are the Pros & Cons of using WordPress.com?
Although WordPress.com is a good option for small businesses wishing to create a website that captures the essence of their brand and showcases their products, there are certain restrictions associated with the platform. Let's examine its benefits and limitations.
Now that you have an understanding of the benefits and disadvantages of both WordPress platforms, you would realise that developing and owning a WordPress website starts with making a solid decision about the platform of your choice.
Frequently Asked Questions About WordPress.org & WordPress.com
Over the years, we've encountered business owners and managers at large corporations seeking clarity on questions about WordPress. This section answers the frequently asked questions about WordPress, WordPress.org and WordPress.com.
Q: How do I start a WordPress.org website for my business?

Have an in-depth understanding of WordPress.org.
– Create a list of the features you need on your website. You may need to work with a software developer to understand the installation process and the type of text editor to implement, among other critical technical elements.
– Visit WordPress.org
– Select "Get WordPress" to download the latest version of WordPress
– Install and set up a WordPress account. In addition, you may need to learn the plugins and themes required for your WordPress website to function.
Q: How do I start a WordPress.com website for my business?

Go to WordPress.com
Click "Start your Website" button
Input your email address and password
Create an account
Choose a domain (A domain is free for the first year)
Select a pricing method and proceed to set up your WordPress account.
Q: Is WordPress available in different languages?

There are 205 locale translations available on WordPress. Visit WordPress Polyglots to check the availability of translations for different languages.
Q: Can I install WordPress on my computer?

Ofcourse! You may install WordPress on your computer and on virtually any operating system.
Q: How do I update my WordPress?

To install an update, navigate to Dashboard > Updates and click the button to "Install Now". A confirmation message will be displayed on screen once the installation is complete.
Q: How do I install WordPress?

Installing WordPress is quite simple. Check out this guide on how to start installing WordPress.
Q: Can I move from WordPress.com to WordPress.org?

It is frequently necessary to switch to WordPress.org due to WordPress.com's constraints. Yes, you can change and transfer all of your data with ease.
Q: WordPress.com vs WordPress.org – Which one is better for E-commerce?

The simplest platform to build an e-commerce website is WordPress.org.
Q: Why should I use WordPress for my business?

There are countless benefits of using WordPress for your business. More about that is covered in the previous article.
Q: How much does hosting for WordPress cost?

A managed WordPress hosting plan costs $1.99–$11.59 per month.
Q: How much do Domain names cost?

The annual cost of a new domain is between $10 and $20. The cost, however, varies depending on the kind of domain you're buying.
For more insightful answers to key WordPress questions, send your questions to us at daniel@studio14online.co.uk.
Recommendations from WordPress professionals at Studio 14
You may have anticipated a functionality comparison of WordPress.org and WordPress.com from this article. However, we are certain you've been able to recognise the pressing problem areas for most individuals.
Which platform, considering the differences, is best for your company?
Is it WordPress.com or WordPress.org?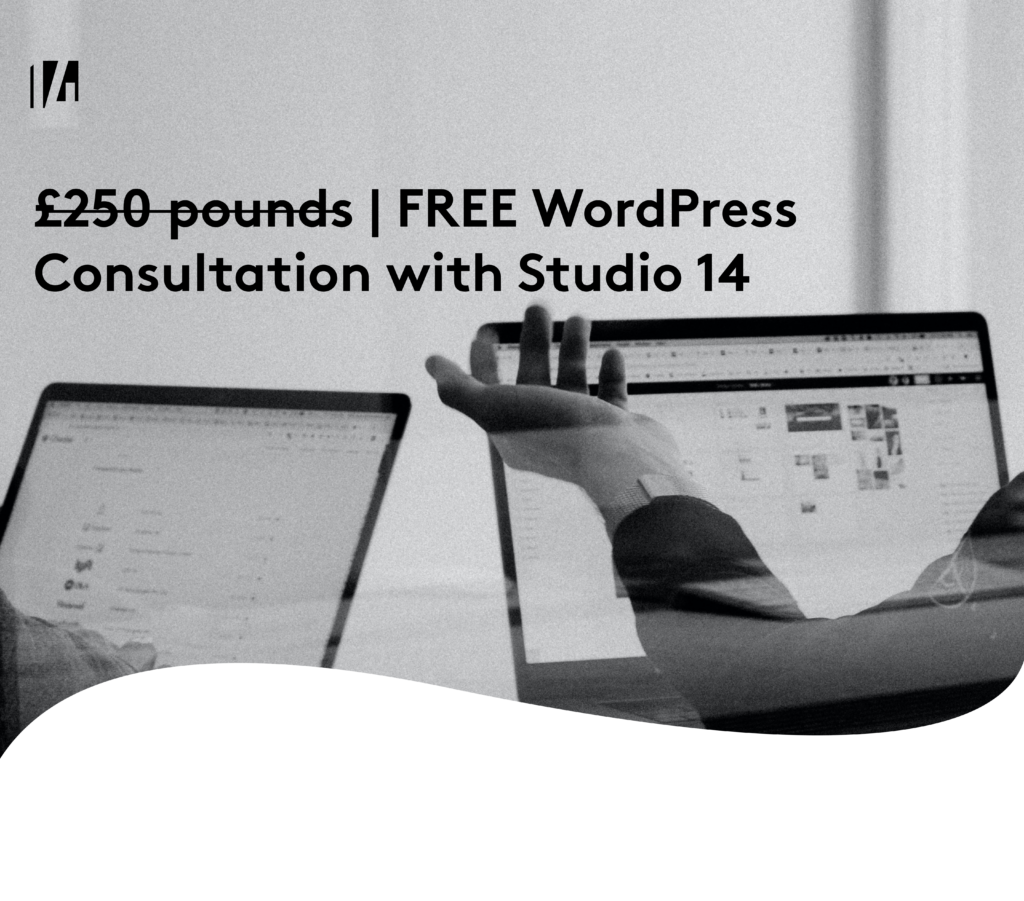 Save up to £250 with a FREE consultation about selecting the best WordPress for your company. Send us a mail at daniel@studio14online.co.uk to speak with our WordPress team.